Light Green Frankincense - Superior Sacra - Oman - 1 oz.
Discover the meaning of fine Frankincense….
This is some of the finest and freshest resin we have ever been able to offer. The aroma is simply transcendent, the clarity and color divine…..
Don't miss this harvest, we never know when we can get it again. It takes sorting and handpicking through hundreds of kilos of Fine Sacra Frankincense to get one of Light Green Sacra. The harvest must be at its peak of fragrance and quality to produce this level of beautiful frankincense tears.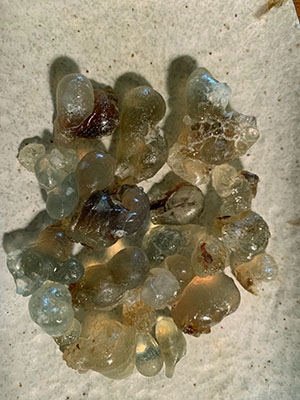 The Color of resin varies from harvest to harvest, but the fragrance is always the best
From Katlyn:
We have the pleasure of getting to smell a lot of Frankincense from many parts of the world…they range from dark and earthy to sweet and sacred.
But if you want to try the kind of frankincense that has always inspired us and our work, this is the one,
Light Green Sacra from Oman.
We are blessed to have this wonderful resin available to us directly from Oman.
The color is luminous shades of green and shining seawater, the tears are varied in size and color but not in quality. Opalescent gems of resin, translucent and jewel-like that have that lovely dry lime /pine balsam scent.
To get real green frankincense sometimes you have to wait. It is hand sorted from the best harvests, each tear picked by hand from the rest. That is why the price can be high, but it is worth it, For Green Frank has a sweet clarity all its own. This harvest is highly recommended, don't miss it.
I pack it myself to assure that every jar has a variety of sizes and colors, but to be honest every tear has the same transporting aroma.
Frankincense has been proven to lift the heart and the emotions - relieve depression and anxiety - and this resin is one of the finest available. It is expensive but the look and feel of it is ethereal, and the scent transporting.
This price is for 1 oz in a clear air-tight jar.
Be sure to store it out of direct light to maintain its color and freshness. We recommend heating on the Golden Lotus Heater (it will release fragrance for hours), but the traditional use of quality charcoal to burn Frankincense is also wonderful and the smoke has its own special magic. Remember that you can "flip over" the Frankincense tear on the heater to get even more scent - See the Golden Lotus Heater video from Carl Neal for more tips.
On making Frankincense Tea and Frankincense Water for health benefits (only the Green types of Frankincense are used for this purpose)
To make Frankincense tea:
- Pick one medium-sized tear and crush (crushing between two spoons works well).
- Add to 1 cup of boiling water, stir for several minutes until the water turns a bit cloudy and small pieces are infused into the water. The tear may not always dissolve completely.
- Pour into a mug and drink as a tea
To make Frankincense Water:
- Crush a Tear or two of Light Green Frankincense
- Place in a glass of pure warm water and stir
- Let it sit overnight (or longer ) in Refrigerator
- Drink to your health
People who purchased this also purchased...