Umbra - Shadowed Earth
Shadowed Earth Incense - "Umbra" means a phantom, a shade or a darkness - like a shadow cast upon the Earth or Moon during an eclipse...
This blend has a deep rich aroma (reminiscent of Pan's Earth) featuring the shady beauty of Nard, Patchouli and Vetiver, touched with Agarwood and Oud , mellowed with Kua Myrrh and Black Frankincense. It lasts all night on the heater...
Very sensual and erotic. Highly recommended!
Contains:
Omani Frankincense, Sahul Myrrh, Kua Myrrh, Vetiver Root, Patchouli, Agarwood, Costus root, Nard from India, Labdanum resin, Oud
It is topped with a hand-embossed Neriko incense Amulet .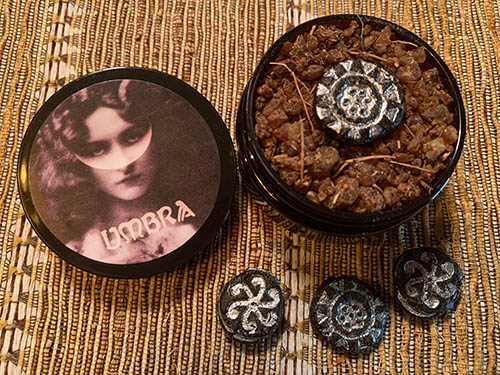 This price is for 1 oz in an airtight amber jar topped with silver embossed incense amulet
People who purchased this also purchased...