Myrrh and Roses - Kashmir Summer Blend
The aroma of an ancient romance …
Rose oil and precious resins, incense inspired by a hidden garden of Kashmir.
The blend is a deep shining crimson color like the hue of a rose.
It starts with a rich floral scent, then merges into the finest Yemeni Myrrh and then evolves into the smooth balsamic fragrance of Kua Myrrh that pleasantly lingers.
"Oh let the sun beat down upon my face, stars to fill my dream
I am a traveler of both time and space, to be where I have been
To sit with elders of the gentle race, this world has seldom seen
They talk of days for which they sit and wait and all will be revealed
Oh, pilot of the storm who leaves no trace, like thoughts inside a dream
Heed the path that led me to that place, yellow desert stream
My shangri-la beneath the summer moon, I will return again
Sure as the dust that floats high in June, when movin through Kashmir
Let me take you there. let me take you there…."
- "Kashmir" by Led Zeppelin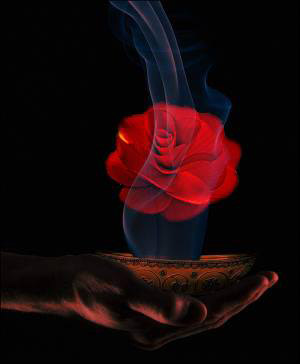 People who purchased this also purchased...