Midsummer Fantasy - Extra Fine Resin Cakes
$22.00
Suntan's grade Green Frankincense
Agarwood powder
Rose Absolute
Linden Absolute
Fir Balsam
For Midsummer Night's Dreaming…
Imagine a stroll through a twilight meadow, the scent of full-blown wild roses and green fir boughs dripping with the remaining warmth of a summer day, The scent of woods and resins that are beyond description, otherworldly, that lead you to a midsummer revel out in the greenwood. Follow the path of wildflowers….
The best I have to offer went into this blend. Each cake is hand formed and embossed with green and silver spirals to please the Fey. Nested in flower petals from our garden and sprinkled with Linden Blossoms.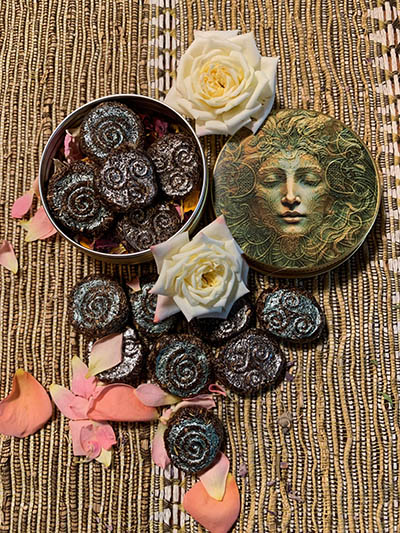 Contains:
Suntan's grade Green Frankincense
Agarwood powder
Rose Absolute
Linden Absolute
Fir Balsam
This price is for 7 fragrant cakes nested in flowers petals
People who purchased this also purchased...