Holy Wood - A Sacred Blend
$22.00
Palo Santo wood, resin and oil
Sages, White , Dalmation and Black
Oman frankincense
Kua Myrrh
Breu Claro
Vanilla
Peru Balsam Resin
Labdanum Resin
Soothing , clearing, and healing
Fresh, natural, sweet and woody - Perfect for Summer
The wonderful scents of sacred plants and trees , a blend to bless and purify your home and seasonal gatherings . My intention was to create an incense for summer gatherings and it is one of my favorite blends of the year.
The base is Palo Santo (holy wood) from Peru enhanced with its own
Resin and Essential oil. I have added 3 types of Sage from our garden to bring clarity and freshness - classic incense resins, Kua Myrrh, Oman Frankincense and Breu Claro from Brazil.
Then the sweetness of Peru Balsam and Vanilla which perfectly blends all these elements together. The pellets are bound with Labdanum and specially prepared wild flower Honey.
The Holy Wood incense cakes were hand formed into organic pebble-like pellets and nested in sprigs of White Sage blossoms, Tagetes Lucida and Marigold petals.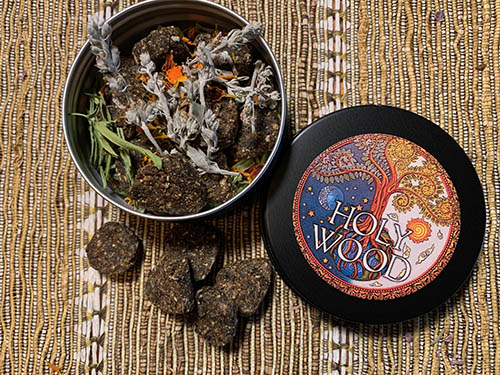 Contains:
Palo Santo wood, resin, and oil
Sages, White, Dalmation, and Black
Oman frankincense
Kua Myrrh
Breu Claro
Vanilla
Peru Balsam Resin
Labdanum Resin
Works well on the electric heater at about 240-250 - Can also be used as a healing Smudge Blend burned on Charcoal
This price is for 10 large pellets (.75 oz.) in a black tin.
People who purchased this also purchased...