Dark Amber - Labdanum covered Kyphi
For Amber lovers...
Labdanum Covered Kyphi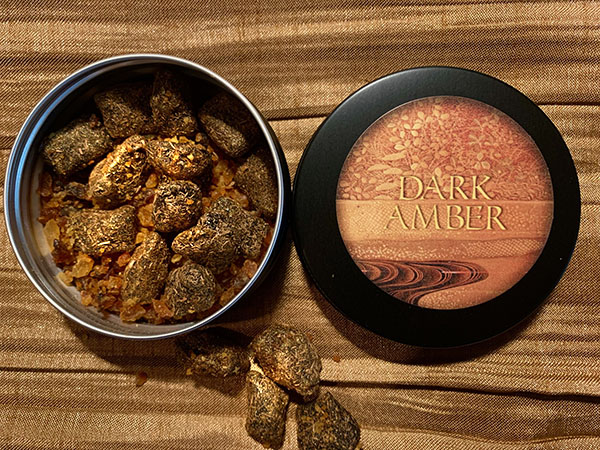 Natural Amber fragrance is made up of Labdanum, Benzoin, and Vanilla, and Dark Amber has these in abundance. Sweetly aromatic with a pheromone-like effect, it is relaxing and sublime. The leathery notes of the Labdanum enhance the incense resins and spices.
These Kyphi-style pellets are dipped in Fragrant oils and coated with Labdanum resin.
These large Kyphi-style Pellets are dipped in fragrant essential oils and then covered with rich dark Labdanum Resin and dusted with Agarwood
This is a complex process, but the combination is worth it.
Best heated on an Electric heater at a lower temperature (about 220C)
Contains:
Labdanum Resin
Blended Omani Frankincense
Yemeni Myrrh
Pinon pine
Spices
Agarwood
Benzoin
Vanilla and Labdanum Absolute
This price is for .75 oz (13 large pellets) in a black tin, nested in bits of Golden Amber Myrrh
People who purchased this also purchased...