Oud Kyphi Balm
Kyphi Oil blended with a few drops of fine Agarwood Oud...held in Beeswax and Jojoba Balm
Ready something rare and special? Those who know our Kyphi incense will instantly recognize the first elements to emerge in the scent - the ancient resins and aromatics that make up our Egyptian incense. Then the agar will be revealed on the skin….I placed precious drops of Thai Oud (Agarwood oil) in each bottle, this is my one of my favorite Cambodian style ouds.
On Mermade Kyphi oil:
Be transported to an ancient temple...
Kyphi was the classic incense of ancient Egypt.
This oil is an oriental blend of essential oils found in the original Kyphi formulas.
Like a lingering memory of something mystic and ancient, with a depth of aromatic presence found in classic incense notes.
This is not a sweet perfume but an aromatic experience.
Transcends gender.
We hope this oil will delight incense lovers who enjoy our Kyphi Incense

Contains:
Oman Black Frankincense oil (Dhofar)
Somalia Myrrh
Labdanum Absolute
Our unique blend of Incense Aromatics
And Oud Agarwood Oil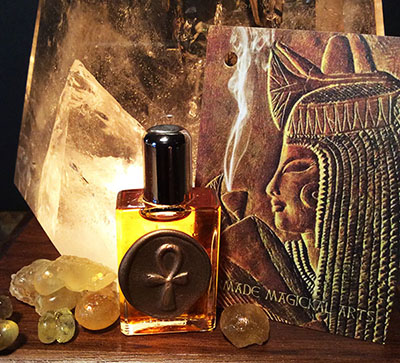 All my aromatic balms are blended in a base of Beeswax and Organic Golden Jojoba, rich with the fragrance of honey and Benzoin.
They are carefully infused with essential oils, resins and concretes - The finest Frankincense, Myrrh, Labdanum and our own signature oil blends are at heart of these emollient balms. The Foral are notes are like smelling a fresh blossom, I use the finest concretes available.
Apply balm to your pulse points or simply rub a bit between your hands and breath in the warm fresh scent.
These balms are created in small batches, blended and poured one at a time.
People who purchased this also purchased...