Baccy Claus - Winter Shaman
ON SALE
This is my outlaw Winter holiday blend, for a Shamanic Yuletide....
Made a small but very choice batch of this traditional incense that was burned for the Smudging nights of Yule and into the new year, a pre-Christian custom of burning incense to drive away the "wild Hunt" . Sound intriguing?
Here is a great article from a highly recommended book on the incense of "Smudging Nights" -
"Pagan Christmas " by Christian Ratch and Claudia Muller - Ebeling
Baccy blend was created for our Winter Solstice celebration and so I was very generous with the Festive ingredients...
Don't miss it! the scent is Wonderful. You will enjoy it until 12th Night...
1 oz comes in a great golden gift tin topped with Spruce and Amanita cap with Baccy Claus on the top
Contains:
Fir Balsam Resin, Tobacco, Juniper with Berries, Thuja oil, fresh Fir and Cedar greens, Ledum, Veronica herb, Benzoin, Frankincense, and Myrrh
Plus...
Amanita mushrooms and hand full of Sativa Green Goodness are in the mix:)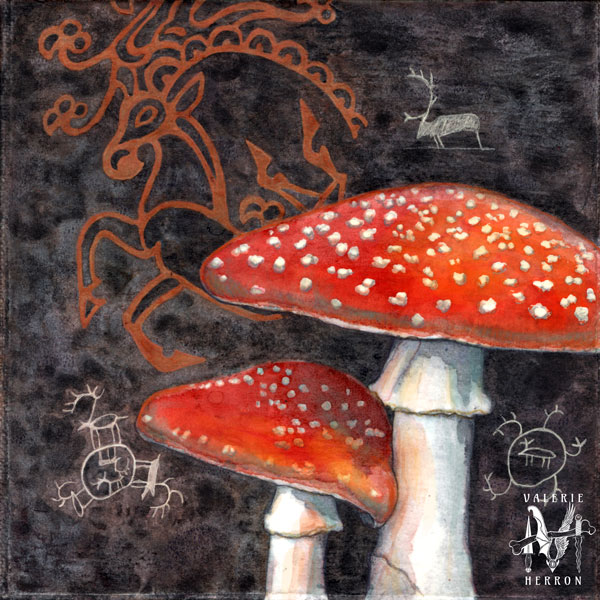 (please do not ingest)
"Rituals were in order to ward off the demonic influences and to conjure a rebirth of the sun after the dark days. At nightfall, "house and stable were smudged with healing herbs: mug-wort, juniper, milk thistle, fir resin" (Storl 2000b, 150). Because of these smudging rituals (originally pagan and later performed by Catholic priests), these nights were known as "smudging nights." People burned juniper and many other aromatic substances to drive out demons. The smoke transformed the aromatic woods and herbs into scent that was supposed to implore the gods to take mercy on human beings and to keep away all evil. They also placed various combinations of magical herbs (called "nine herbs") in their beds for protection and mixed them into their animals' food."
The smudging nights are still taken seriously in Scandinavia.
"Pagan Christmas " by Christian Ratch and Claudia Muller - Ebeling
People who purchased this also purchased...