Forest Balm - Fir Balsam
A cooling balm, like sitting in the shade of Fir Balsam Tree.
Fit for Dryad or a Greenman…
This balm is pure Beeswax and Jojoba oil to soothe the skin and imparts that amazing sweet green Fragrance that Fir so generously shares with us. Scented with fresh raw Fir Balsam resin (we call it Golden Elixir, thank you Be-en-Foret)
and also Fir Balsam Absolute which gives it a lovely light forest tint and a jammy aroma.
Comes in a glass Balm Pot with embossed lid.
This stuff is magickal….dap it on and dream you are out in the wild.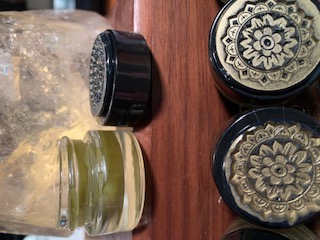 People who purchased this also purchased...