Turkish Delight - an Incense Confection
An incense confection of Mastic and Frankincense misted with essence of Fig, Rosewater and Orange Flower. Mixed with "Nuts" made of Fresh Vanilla Beans and Golden Raisins macerated with Calvados, Dark Benzoin, and Labdanum. Enjoy!
The flavors of Turkey are as unique and exotic as her sights and sounds. The Turkish Delight or Lokum is one such delicacy, which is not just popular in Turkey but has found favor with tourists from all over the world. Including Narnia!
"It is dull, Son of Adam, to drink without eating," said the Queen presently. "What would you like best to eat?"
"Turkish Delight, please, your Majesty," said Edmund.
- The Lion, the Witch and the Wardrobe, C.S. Lewis, Chapter Four
Turkish Delight (Lokum) comes in many flavors including, Mastic, Vanilla, Rose, Citrus, Chocolate, Coffee, and often have Pistachio, Almond or Walnuts mixed in. These flavors lend themselves easily to become a wonderful incense!
This incense is a tribute to this classic and beloved sweet. The "nuts" were created by macerating by hand Fresh Vanilla Beans, Golden Raisins that have been soaked for a year in Calvados (Apple Brandy), Labdanum, and Dark Benzoin resin. The mixture is then hand-rolled into small pellets and added to the Perfumed Mastic.
1 oz. comes in an airtight jar, also included are a few bites of Lokum from Bekir's shop in Turkey!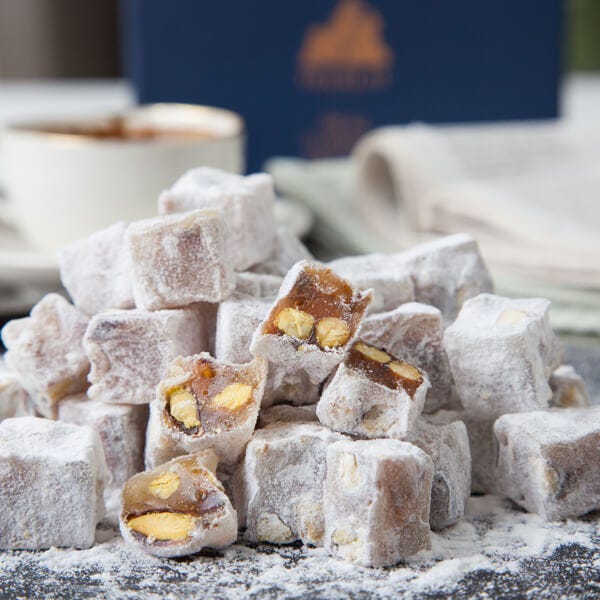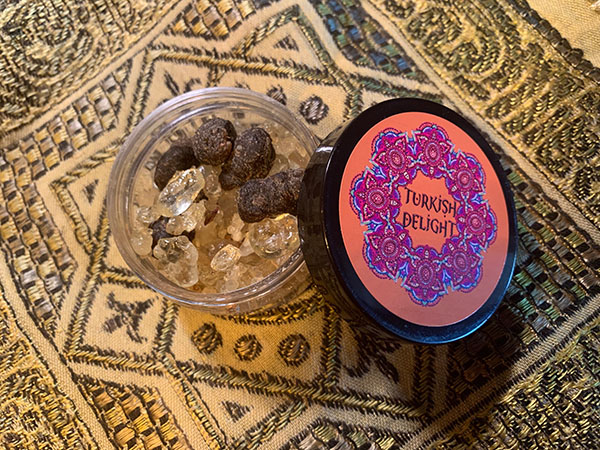 History of Turkish Delight
Turkish Delight has an illustrious past. It is one of the most ancient sweet dishes in the world, dating back 230 years. There are several stories surrounding its origin.
One legend has that there was a certain Sultan who believed that the way to a woman's heart was through her stomach. He had in his armor, recipes for some very exotic and innovative dishes, with which he wooed his mistresses.
Once, very eager to please his numerous mistresses, he ordered his chefs to prepare a novel dessert. Thus, the Turkish Delight came into being as a royal delicacy, which very soon became one of the most coveted dishes to have ever come out of the royal kitchens.
According to another legend, the Turkish Delight was the handiwork of a confectioner named Bekir Effendi. Bekir was a native of a small town named Kastamonu, high up in the mountains of Anatolia, who came to Istanbul in 1776 and set up his sweet shop.
He was an ingenious confectioner and the kitchen was his canvas where he gave vent to his imagination. The Turks are famed for their sweet tooth and it was not long before Bekir Effendi wormed his way into their hearts with his Turkish Delights. Soon people were flocking to his eatery.
Turkish Delights wrapped in lace handkerchiefs became a chic gift item amongst the socialites. Couples exchanged them as tokens of love. Turkish Delights also became a popular tidbit.
Bekir Effendi's soft and tender Turkish Delights soon gained entry into the royal court. The Sultan, fed up with the available tough-as-nails candies, took to Bekir's creations like a fish to the water. This royal acceptance elevated the Turkish Delight almost to the status of a cult.
Bekir Effendi's business flourished as even the royal courtesans trudged down the hills to buy from him. He came, he saw and he conquered Istanbul with his brand of Turkish Delights.
Bekir's shop still stands today on Hamidiye Caddesi at the corner of Seyhülislam Hayri Effendi Caddesi, two blocks east of the Yeni Cami (New Mosque). This 250-year old confectionary is a Turkish institution, which still dishes out the most sumptuous and choicest Turkish Delights in the whole of Turkey.
Bekir's inventive trait has been passed on to his posterity and they regularly come up with masterpieces concocted with pistachios, walnuts, chocolate, whipped and oranges.
Another story has that Turkish Delight originated as the result of rivalry between the royal chefs to be in the good books of the Sultan. One chef made a dish with cornstarch, flavors and sugary syrup and filled it with nuts and dried fruits. This is what we now know as the Turkish Delight.
You can try real Lokum from Turkey at the Grand Turkish Bazaar
People who purchased this also purchased...