Tangerine Dream - Kyphi-style cakes
"Tangerine, tangerine
Living reflection from a dream…"
- Led Zeppelin
For a summer of love.
One whiff of Tangerine Essential oil and I knew this was the inspiration for my next blend.
With old song lyrics floating through my head and scents calling to become a part of the mix, it came together beautifully.
This blend has delicious citrus notes held in resins, precious woods, florals, and spices. The round kyphi-style cakes are embossed with copper designs.
Perfect for summer and creating a positive and prosperous atmosphere.
Contains:
Crimson Kua Myrrh
Sultan's Green Frankincense
Mysore Sandalwood
Benzoin
Dragons blood resin
Calamus Root
Oils blended with Anthropogen flowers (from Nepal):
Tangerine
Ruby Grapefruit
Blood Orange
Red Mandarin
Rose Anatolian
Ginger Lily
Honeysuckle Melange (White Lotus)
.75 oz (10 large cakes) nested in Anthropogen flowers and Mandarin/Orange zest, comes in a golden tin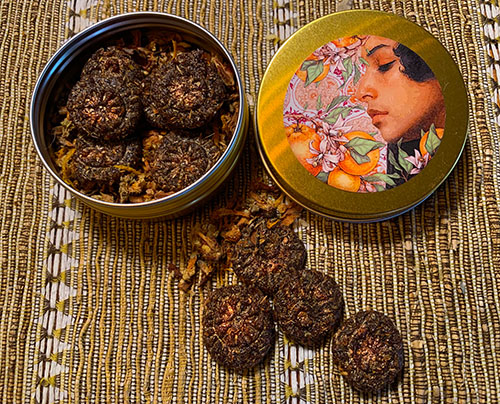 People who purchased this also purchased...