Sun Ceremony - Solar incense - On Sale
A prairie at sunset and a meadow at midday….
An Incense warm with the delightful scent of the sweet Coumarin in Summer botanicals. This blend was created to celebrate the Sun at the Summer Solstice but it can be burned or heated at any time you want to experience the scents of Summer, and perhaps make a solar offering to ask the Sun to be gentle.
It is also beautiful to look at with flecks of gold and copper leaf, dried edible flower petals from Slovenia, and topped with shining golden scales of Colophony pine resin from Portugal. It glitters in the sunlight.
Warm aromatics of woods, resins, and herbs fresh from the sun-filled garden.
The base holds the balsamic beauty of Palo santo, fine Frankincense, Peru Balsam with Greek Sage, and Sweet Grass. A mellow and sacred blend, perfect for honoring the Sun.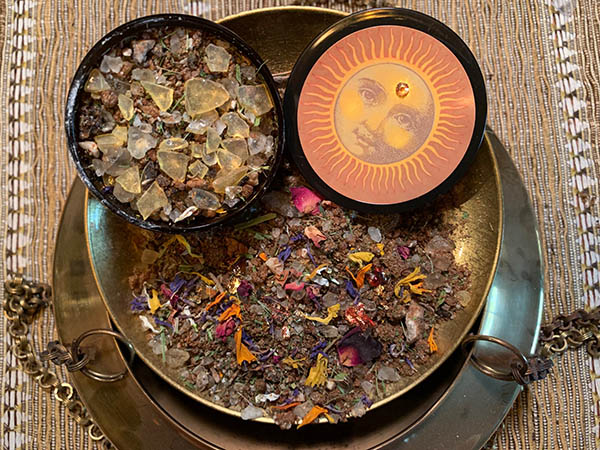 Sun Ceremony contains:
Ground Sweet Grass
Palo santo
Greek Sage and Dalmatian Sage oil
Clary Sage Flowers (from our garden)
Benzoin and Styrax Resins
Peru Balsam
Breu Claro Resin
The finest mixed Oman Frankincense
Tagetes Lucida (from our garden)
Meliotis Sweet Clover (from Be's garden:)
This price is for 1 oz in an amber air-tight jar, topped with an amber jewel
"The Wheel of the Year has turned to the Summer Solstice
As time moves forward the year matures into adulthood.
The fullness of life rises with the sun's warm rays.
The earth, lush and green.
This is the year's longest day.
The long summer days are like a long, melting kiss.
The warm summer nights are where the heart finds its bliss.
We align our desires with the power of our hearts.
We take responsibility for what we have created so far.
This phase of the year represents what will be.
We have chosen our path,
Now the path is beneath our feet.
The details of our lives, the spice, and the flavor are not just handed to us,
As no one is favored.
It comes from within, from the depths of our hearts.
We design and create it with our emotions and our thoughts."
- Julie Carol
"At solstice was when the whole world measured time
This is when the light would turn around
This is where the past would come undone
and the spinning earth will mark a change
Let's go back in time, to when it all began
To the breaking of new dawns
Where moments bright with fire,
would light the chanting song
Where pagans worshipped sun,
and danced among the trees
Wore masks of covered straw, and blessed cold ash with awe
This was when the whole world measured time
This is when the light would turn around"
- Carrie Richards
People who purchased this also purchased...