Spirit Temple - 2020 - Precious wood sticks
Scent vision ...
A heartwood temple of precious woods in an ancient cedar forest - The beauty and peace of Eastern Aromatics,
to make your home a temple. Mossy, woody, a relaxing sacred aromatic...
This is a spiritual meditation blend, a Mermade tradition.
I do believe this is one of the finest sticks we have ever created...done in the Japanese style, but warmer...
We used the finest Sandalwood powder (Shunkodo) and Agarwood powder as the base for a myriad of elegant aromatics,
Let this blend create a peaceful and meditative atmosphere.
Spirit Temple was voted in the Top 20 Incenses for 2008 by the Olfactory Rescue Service.
Mermade Magickal Arts/Spirit Temple – Mermade uses the best ingredients possible and puts them together in wonderful blends. This one has lots of very high grade aloeswood, sandalwood and others. A beautiful, rich and full scent and way underpriced compared to Japanese incenses. (Ross)
Spirit Temple contains:
Fir Balsam raw resin
Himalayan Juniper
Golden Benzoin and Mastic
Japanese Zukoh , the finest quality from sacred Mt Koya
My special essential oil blend...
There are no wood binders or fillers in this blend. Just pure precious woods and aromatics.
9 sticks are nestled in our Glass vials corked and sealed with beeswax.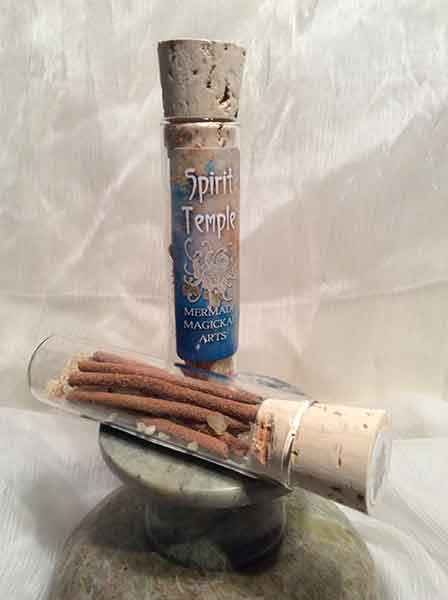 The beauty of colour and of form is limited in its showing; it is a fixed quality of existence, whereas fragrance is volatile, ethereal as the breathing of life. So in all religious ceremonies, frankincense plays a prominent part. There is something spiritual in redolence. When the delicious perfume of the sakura quickens the morning air, as the sun in its course rises to illumine first the isles of the Far East, few sensations are more serenely exhilarating than to inhale, as it were, the very breath of the beauteous day.
--from Bushido, The Soul of Japan: An Exposition of Japanese Thought by Inazō Nitobe
People who purchased this also purchased...