Naga - A Himalayan Fantasy Incense
A Himalayan fantasy incense….
This is the newest batch of "Naga" and even more Authenic and beautiful This blend has an ethereal Green/floralness to it that carries you into the precious sandalwood and lasts in the air with the sweet resins.
...if you are looking for a new scent experience try this unusual blend....
Made from a special selection of Junipers, Rhododendrons and other high altitude plants gathered in the valleys of the Everest region of Nepal, blended with our newest Premium Sandalwood granules and fine resins.
Its main ingredients, rhododendron leaves, and flowers are collected at the Lawudo Retreat Center, a Buddhist nunnery in Kathmandu, Nepal.
I recently discovered (with the help of Beth at Essence of Ages) a beautiful Himalayan blend which featured the scent of Rhododendron called "Lawudo". Its aroma was so captivating I wanted to feature it in a fantasy blend. I call it "fantasy" because some of the botanicals in it are not from Nepal or Tibet, but seemed to blend and expand the scent in a perfect way.
The scent has a water-like fragrance . It immediately reminded of me of Naga Kanya.
It should be heated on a Golden Lotus Electric Incense Heater.
Contains:
Juniper - Wood and herb and berries
Rhododendron - "Sunpati ", Twigs, leaves and Flowers
Himalayan Cedar
Sandalwood - Premium grade ganules imported from Japan
Ground Kua Resin
Tolu Balsam – to sweeten and bring the scent a unique warmth
Scent Profile - Healing, Sacred, herbaceous, sweet woody, wild unusual floral and green notes
Ross at ORS on Naga:
I really like the Rhododendron in this mix, it adds an honest water note that is very unusual and quite fascinating and rides over and through the different woods, herbs and frankincense notes. Something very different from Mermade that will appeal to a lot of people. On a hot day this might be just the thing to cool things down a bit.
Naga Kanyas (Cobra women, daughters of the Nagas) ) are mystical creatures part woman, part bird, and part snake. Their cults date back to the earliest Indus valley civilizations around 2500 B.C.E. - Nagas, much like dragons, inhabit the underworld, where they guard the riches, treasures and secret teachings that are found there. They carry a precious jewel in their forehead. Also akin to mermaids, they are the guardians of water and the ones who give rain. They have the form of beautiful maidens, but usually, maidens only from the waist up, while from the waist down they are serpents with often with wings.
In a beautiful buddhist tale narrated in the Lotus Sutra where a Naga princess, daughter of the Ocean (Sagara) comes to bodhicitta as a young girl. Before an incredulous assembly of boddhisatvas (because she was so young, and a woman), the Nagini offers to the Buddha a jewel, said to be worth thousands of worlds.
When the Boddhisattvas tell her that the Buddha accepted her jewel immediately, she told them to watch her become a buddha even more rapidly…The common interpretation of this myth is that her jewel was in truth her very own life, worth indeed thousands of worlds, and the gift of which was the ultimate price, whether it be spontaneous or the work of an entire life…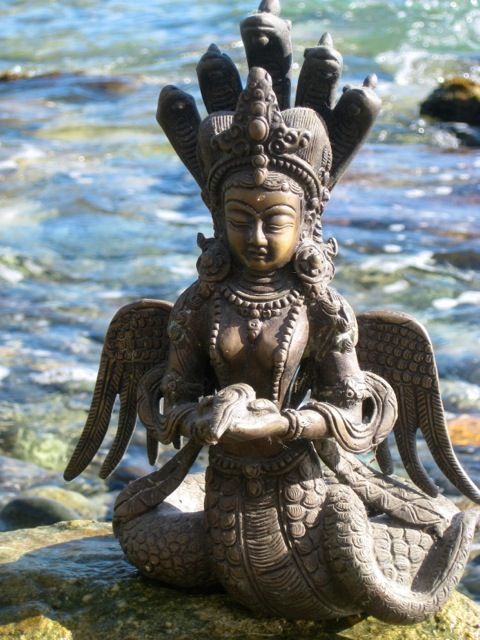 On the Lawudo Retreat Center and Khachoe Ghakyil Ling Nunnery:
In 1982 Lama Yeshe invited the first nuns to join Kopan monastery and study with the monks, quite a revolutionary proposal at that time. In 1994, 80 nuns moved into their own premises. The nunnery is now home to some 390 Tibetan Buddhist nuns from Nepal, India and Tibet.
The nuns of Khachoe Ghakyil Ling Nunnery have had the doors of the classical Buddhist education opened to them. They are provided with highly trained scholars to teach them, and are now instructed in classical Tibetan debate, the performance of ritual music, the creation of sand mandalas, and other ritual arts.
Their goal is to become qualified Dharma teachers so that they may teach others, and to become economically self-sufficient.
The nunnery is funded mainly by donations from kind benefactors, and offerings received for prayers performed. A permanent food fund has been set up to secure the future of the nunnery and its residents. An additional source of income is the incense factory that was established in 1997. Tibetan style incense is hand made by the nuns. You can support the nunnery by ordering this incense.
What does Khachoe Ghakyil Ling mean?
Khachoe is the name of the Pure Land of the Dakinis. A dakini is a \"Sky-Dancer\", a dynamic, dancing, female emanation of enlightened mind.
Ghakyil means joy-swirl or bliss-swirl, a Tibetan Buddhist symbol which resembles the yin-yang symbol of east Asia.
Ling simply means \"place\" or \"Dharma centre\".
From Mike at ORS:
Mermade's Naga's Nest is a true original. One of the things you'll notice about Tibetan incenses, particularly the ones sourced from Nepal or India, is that so many of the aromas you'll find are embedded in very inexpensive woods, often the kind that smell like burning tires and make your eyes water. So imagine if you were to take a Tibetan rhododendron or lawudo incense, strip away all of the cheaper ingredients so that all is left is the aroma itself, and mix those ingredients with good resins and sandalwood adding just the right foresty touch so that the rhododendron ingredient isn't suffocating anymore. What you have left is a gentle and unique scent floating like a mirage on the top of a good base. The scent is then recognizable from Tibetan incenses but allowed to flourish, and that it does in this blend, which lasted for hours when I put it on the heater. There really is no other incense like this in any market, in fact even the occasional powder incenses don't sing like this one does. One only hopes Mermade will try their hand at some of the other Tibetan ingredients in a similar fashion.
People who purchased this also purchased...