Lychee Mango Tea - Floral Fruit Incense
For something really special try his unusual blend with afternoon tea …
This incense was inspired by a sip of wonderful iced tea, during on a hot desert day. It took months of exploring to create a fruitful exotic aroma that would translate fully into an incense.
I try to always create an "edible" blend every fall and this one is very unique. It makes a wonderful "tea time" incense to lift the spirit.
What is in Lychee Mango Tea?
Have you ever eaten a fresh Lychee fruit?
Lychee has a divine perfume as well as flavor … tart citrus, sweet and yet delightfully floral, almost like a tropical rose. I used a bit of Lychee Flavor essence and also an essential oil from India to capture the sweet floral nature of Lychee fruit.
Then I discovered a blend of natural isolates called Mango Melange from White Lotus Aromatics, one of my most trusted purveyors of fragrant treasures.
"It is a blend of natural isolates displaying a delightfully rich, sweet, fruity tropical bouquet with a delicate floral undertone that nicely captures the complex aroma of ripe mangoes."
These aromas were blended with Lemon Verbena leaves from our garden, Rhododendron leaves and flowers and tears of crimson Kua Myrrh, which smooths down the blend and keeps it from being too sweet. The Kua also looks like shining juicy globes of fruit.
You will be wonderfully surprised by the way this blend translates upon the heater!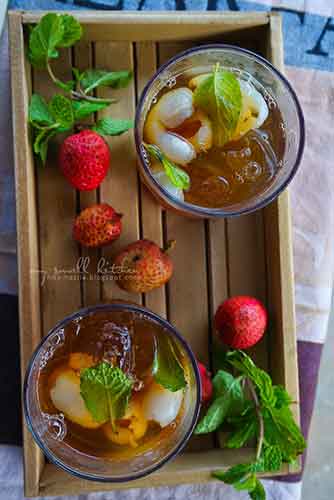 Ideas for refreshing Lychee beverages...
- For a refreshing Iced Tea try canned or fresh Lychee fruit or syrup with Ceylon Black Tea, or Green Jasmine pearls, garnish with mint leaves
- For a romantic Cocktail try mixing Prosecco with Lychee and adding a splash of rose water, garnish with rose petals
People who purchased this also purchased...