Heart Wood - A blend of fine woods and resins
"Heart Wood"
Heartwood and Holy Wood are based in the soft fragrant woods that are at the heart of the tree.
Soft and healing aromas that are soothing to the body and soul. I have ground the resins and woods into a very fine powder that melds their scents perfectly. Can be heated for light subtle fragrance all day on the heater or sprinkled on charcoal to fill the air with goodness instantly.
Heart Wood features the sweet elegance of Sandalwood and it contains:
Palo Santo
Lots of Fir Balsam
Extra fine Sandalwood we get from Japan
Nepalese Juniper
Black Frankincense
Holy Wood features cleansing and healing herbs, woods and resins, it contains:
Palo Santo
White sage (from our Garden)
Black Frankincense
Copal Blanco
Peru Balsam
Fir Balsam
Port Orford Cedar
Nepalese Juniper
These .5 oz. blends come in a glass vial, sealed with Beeswax.
Maybe bought separately or buy together and save.
Every country in every part of the world has its botanical treasures, the greatest of which are so important to the society that they become pillars of the culture. Palo Santo is one such medicine. It\'s healing powers are so numerous that it has served as a panacea for areas of South America for centuries. Its use in sacred ritual is so powerful that it is an essential tool for Shamans and Saints alike. And its aroma is so incredible that it stands among the greatest of the world\'s fragrant woods. Because of the extraordinary blessings it bestows upon those who have the good fortune use it, over time, plant-medicines such as Palo Santo reach divine-like status in the hearts and minds of the people.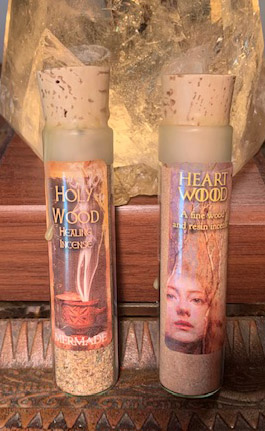 People who purchased this also purchased...