Goddess Temple - Katlyn's Kyphi #1
The Kyphi fragrance everyone has loved for over 20 years is back!
These pellets are earthy and yet refined, and smell oh so sensuous and sacred….
If you have enjoyed my past Kyphi creations, then you will find these delightfully familiar. The Traditional ingredients are there but the blending process is a new one I have developed, making it possible for me to blend Kyphi -style again.
And… I did not have to sprain my stirring arm or wait 6 months for it to cure! I will be able to create this Kyphi style incense throughout the year. This is not a traditional Egyptian process but the botanicals, resins, and spices are.
I hope that this new type of Kyphi will bring the same joy and sensuous beauty as the old formula. I believe it does.
This batch number one. More versions to come…
Contains:
Frankincense - Hougary, Black Sacra, and Honey
Myrrh - Yemeni
Pine Sap - Aleppo and Pinon
Labdanum
Cinnamon
Galbanum
Styrax
Dusted with Agarwood powder
This price is for .5 oz (about 12-13 pieces) in a black tin topped with an "Incense Goddess" label by Katlyn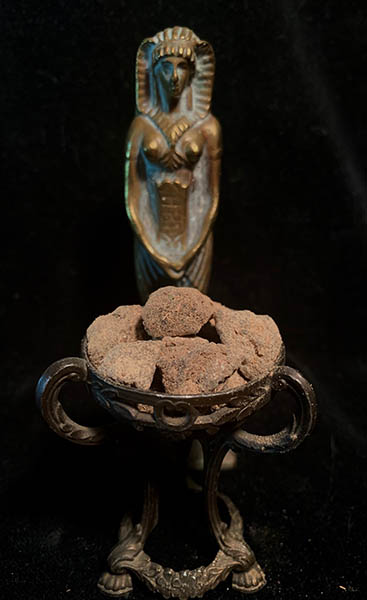 People who purchased this also purchased...