Dedari - Balinese Heavenly Trance
Dedari is a sacred trance done by young women in Bali to bring a fruitful harvest and blessing of the Spirits. I was lucky enough to witness it while taking dance classes there in 80s. The sights, scents, and art of Bali are breathtaking and this incense is a tribute to that beauty.
In preparation for the trance dance, the dancers are adorned with fragrant flowers, and a special incense featuring Sandalwood is used to "smudge' the Dancers and call to the spirits to enter them. Here is my attempt to create that "spirit calling" incense.
With each jar comes a small bag of Roselle (Hibiscus sabdariffa) is a species of flowering plant of the Hibiscus family.
In many parts of the world, a drink is made from the roselle fruit (the calyces with the seed pods removed). It is prepared by placing fresh, frozen, or dried roselle fruit in boiling water for 8 to 10 minutes (or until the water turns red), then adding sugar or honey. It is delicious and healthful, with a floral cranberry flavor, best served on ice. This is enough to make a glassful.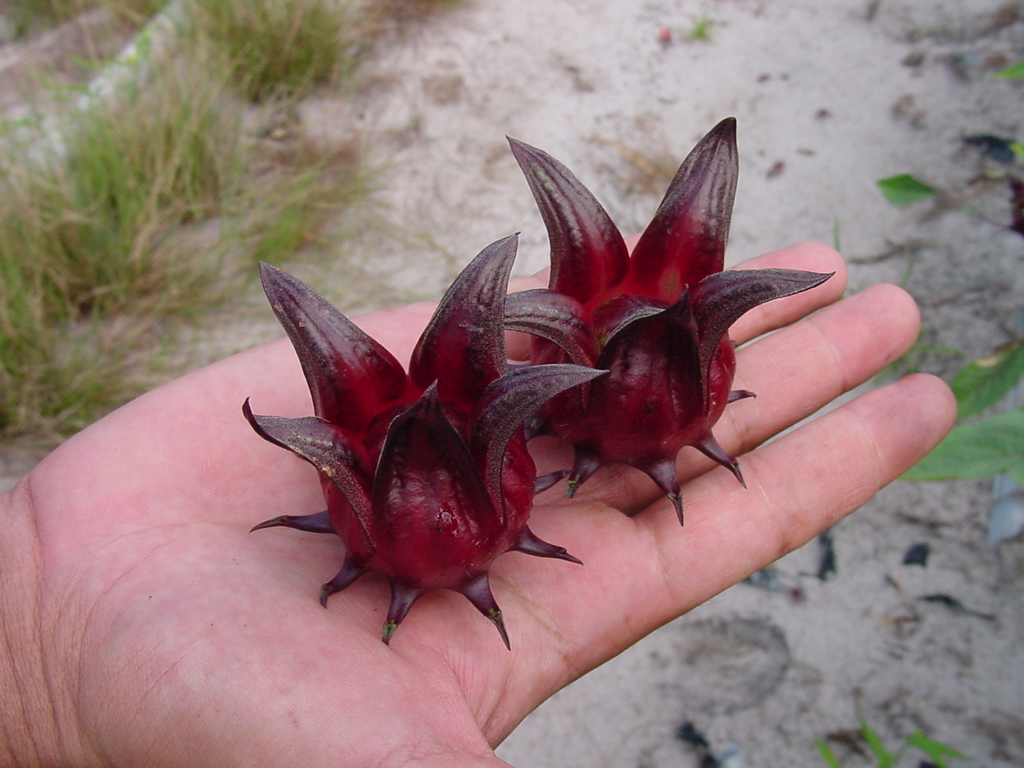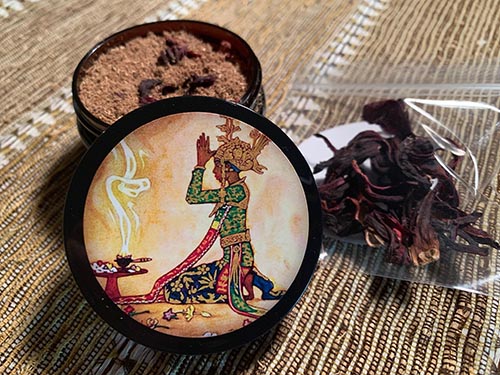 Roselle
To see the Dedari Ritual Dance go here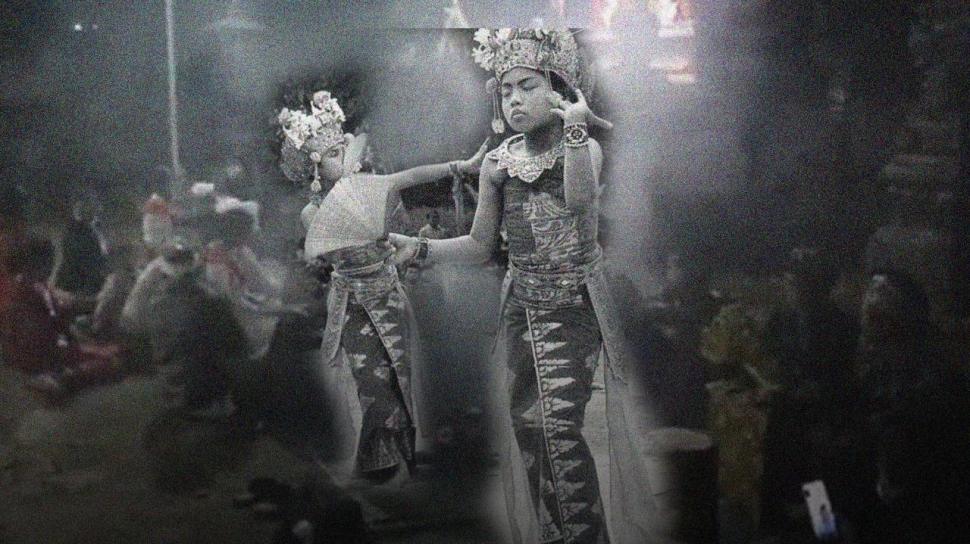 Dedari Trance dance
It contains:
- Mysore Sandalwood from India, in which I let Star anise and cinnamon bark sit for a month to let the spice notes permeate the Sandalwood and then sifted out
- Serrata Frankincense from India
- Extra fine White Ginger Flower and Jasmine Grandiflorum absolute
- Roselle (Hibiscus sabdariffa) It also contains a special hibiscus that has been soaked in Jasmine and Ginger lily oil. Roselle is a species of flowering plant in the genus Hibiscus that is native to Africa, most likely West Africa. In the 16th and early 17th centuries, it was spread to the West Indies and Asia, respectively, where it has since become naturalized in many places. The dried cranberry-tasting calyces are commonly steeped to make a popular tea known as Karcade.
- Massoia Wood from Java - this is a bark that we just discovered through the wonderful Be-en-foret. It has a tropical scent, with notes of Coconut and Spice, more on Massoia here
This price is for 1 oz in an airtight jar and small bag of Roselle to make a glass of iced tea
Sanghyang Dedari Trance Dance - Bali
Sanghyang Dedari is one of the sacred dances (wali dance), an ancient ritual dedicated to Dewi Sri, goddess of fertility and prosperity. This dance is believed to be associated with animism and dynamism and is thought to have existed since the Pre-Hindu. Currently, the Sanghyang Dedari performance is rare, but you can still find it in Geriana Kauh Village, North Duda, Karangasem Regency, Bali.
Here, people plant local rice seeds or "Padi Masa", seeds with a longer harvest period. When the rice starts to mature (around April) and is golden yellow, it is time to prepare for the sacred dance ritual, the Sanghyang Dedari.
The purpose of this ritual is to invoke for healthy agricultural crops, not be attacked by pests, and successful and abundant harvest. This is local wisdom in maintaining harmony between humans, nature, and spirit. This sacred tradition is also believed to function as a protection against evil spirits (negative supernatural forces).
The dance is performed by female dancers, accompanied by the song "Gending Sanghyang" and performed in the holy area of the temple. The dancers are chosen from the local girls by the temple. It is believed that the spirits possessed the girls and made them dance in trance conditions with complex movements.
This is based on the idea that a force enters the body of the performer. The force (Hyang) is important spiritual entities. These spiritual entities are believed to be the embodiment of Dewi (goddess)Tunjung Biru and Dewi Supraba.
After the preparation is done, Sandalwood/floral incense was burned in "pasepan" or wierook, the dancer knelt in front of it and was accompanied by holy songs and prayers. This stage is called, "nusdus" or "ngukup", to invoke the spirits (dedari) to enter their bodies and the dancers to fall unconscious.
Then the dancers rise in a trance condition with their eyes closed. They are dancing while playing, walking, even climbing bamboo (which has been prepared) without fear. After the ritual is complete, the Holy Spirit is returned to its origin. The dancers are being sprinkled with holy water and regain back their consciousness.
Every resident actively participates in the performance and is carried away in the dance rhythm of the angel. This ritual provides healing from imbalances (un-harmonious) and strengthens relationships between them.
Dancers wear costumes that are dominated by white and yellow. Several layers of cloth covered the dancer's body. The patterned scarf coiled from the waist to the chest and plain white and yellow scarves tied to the waist. The makeup is simple and natural.
While at the top, the dancer's hair is arranged in such a way and is wearing a headdress. It is made from grapefruit peel (jerungga, muntis, jeroti). Then the flowers are beautifully arranged, sticks to the peel. The flowers used include Champaca, Ginger lily, Cananga, Frangipani, Marigold, Jasmine, Hibiscus, etc.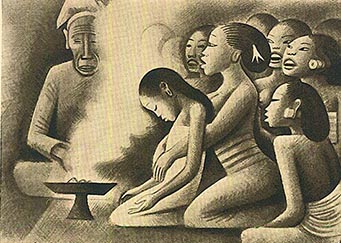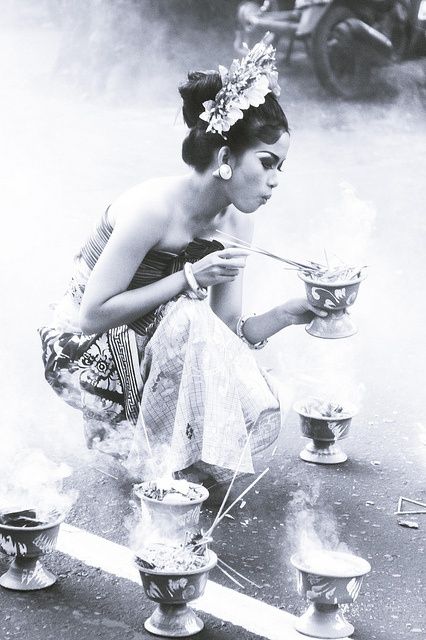 People who purchased this also purchased...