Red Fasoukh - Resins,Woods, Myrrh and Roses
A Moroccan Fantasy ...
Fasoukh (Fassoukh) is the name of a rich resin blend similar to a bakhoor style incense. It is a traditional incense of North Africa and Morocco. It can have many levels of scent and many different ingredients. Said to be used by magickal practitioners for blessing and protection. In creating this blend I used inspirations from many various photos, formulas, and descriptions. Perfect on a moonlit night to create an oriental exotic atmosphere, and to chase away the shadows...
The woods, resins, and rose combine in a rich and wonderful way, a scent that lingers with classic incense notes.
Contains:
Rose petals from our garden soaked in a blend of rose oils
Sandalwood Heartwood (Tamil)
Agarwood Chips (Vietnam)
Resins crushed and melded into an aromatic base including…
The best Yemeni Myrrh
Black Frankincense from Oman
Benzoin from Sumatra
Crimson Kua from Socotra
All blended pressed and aged together into beautiful fragrant cakes
The price is for 1 oz
Mermade "Red Fasoukh"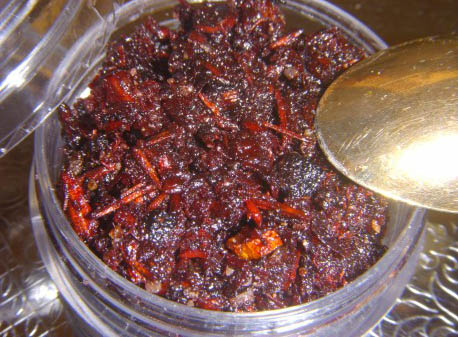 Traditional "Santal Rouge Fassoukh" - Morocco
People who purchased this also purchased...