Proserpina - Agarwood and Meadow
I hope you will try this blend, it is one of my favorite creations, dedicated to the mythically eternal Persephone. May it enhance your journey through this season…
Proserpina is the Roman name of the Greek goddess Persephone, who travels between darkness and light. She is the mythic manifestation of resurrection and abundance as well as the Queen of the Death and the Underworld.
This incense is to honor the beginning of the dark time of year, following Persephone on her journey
into the realm of the shades… But safely within her is the golden seed which shall return in the spring to bring forth the Golden fruit, the bounty of the grain.
Proserpina incense contains mainly Agarwood, the resinous wood that is born from the destruction and transformation of its host tree. I feel it represents the goddess of death and rebirth with its exquisite and legendary shadowed aroma.
"Agarwood can transport us through time and space to an imagined antiquity, or even into a trance state." - Jennifer Peace Rhind
It also contains her golden aspect of rebirth. To represent the seed of regeneration, of the grain within, I have added the richness of Hay absolute
"One of the most sublime of all perfume materials. Hay is, as literally as possible, the smell of liquid summer sunlight." - Chandler Burr
Also in the blend are Frankincense, the resin of the Sun and the light renewed-
and Myrrh the resin of the shadows, the Rites of Passage, and the mysteries of the Moon.
All bound together with Styrax and Honey, the fumigation of Hecate, Persephone's constant companion
Best used on an Electric heater to capture the more delicate elements of the blend, but because it is predominantly Agarwood burning it gently on a high-grade charcoal will bring a whole new experience.
After the cakes have been on the heater for a while, be sure to get all the fragrances they can offer by breaking them apart.
This price is for .5 oz. (11-12 pieces)
Contains:
-Agarwood from Cambodia and Thailand
- Oud Yusuf (my favorite Oud from Ensar)
- Hay Absolute with Sweet Grass and Labdanum
- Omani Frankincense
- Yemeni Myrrh
- Mysore Sandalwood
- Bound with Styrax and Honey (the incense of Hecate)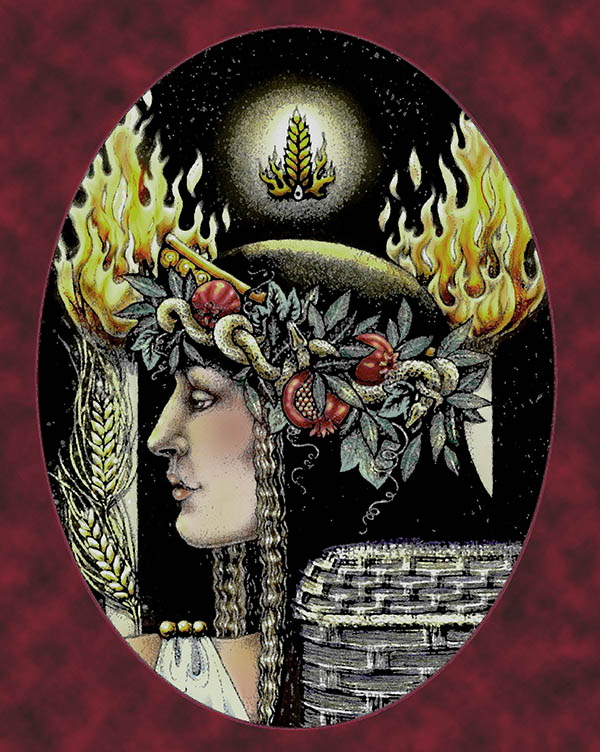 Persephone - by Katlyn
People who purchased this also purchased...