Hecate - Light in the Darkness
A hymn to the night,
Through darkness into light….
A rich deep scent, filled with precious Resins, Woods and scents of Earth.
A lot of Time and Energy went into this sacred blend, I hope the offering is accepted.
1 oz. comes in an Black airtight jar
Contains:
Black Dhofari Frankincense
Propolis (and offering of Honey)
Yemeni Myrrh
Kua Crimson Myrrh
Agarwood
Black Turkish Storax Bark and Amber Styrax Resin
Black Copal
Oak Moss and Costus Root
"Let go, slip into the night-
embrace the world of blushing shadows,
inhale the sweet flower brought out of the day,
feel the smooth, tight, fluid blackness
pour herself out and envelop the World
in the mystery of her darkness swirled.

Out of the cauldron are we,
now round and back again.
This is the little Sun, this is the Moon-time.
Night of the Crossroads, shimmering veil of spider web lace,
flimsy barrier between here and there, this and what might be.
We have entered the Shining Land, descended down....
We have gone past the edge of town.

We rest and ride within a dream-
Transcend and change the shapes of things.
Here we are boundless like the night,
And praise her mysteries, kept from sight."
- by Robert Gratrix


Hecate - we call for your Guidance through the dark times - through the underworld of our own doubt and fear….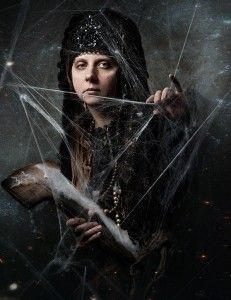 People who purchased this also purchased...