Electric Incense Heater - Golden Lotus
Mermade's Golden Lotus Incense Heater
Recommended by Mandy Aftel in her latest Book, "Fragrant"
This Electric heater will change and vastly improve the way you enjoy incense. We feel certain that you will find the Golden Lotus to be the finest and most economical electric heater on the market. - Katlyn
A classic style black and gold ceramic censer bowl.
Thermostatic control with gentle cycling heat, allowing for more Scent with less Smoke.
We are very pleased to be able to offer this beautiful, reliable and easy to use Electric Heater. Unlike Charcoal for burning incense, you have control over the level of heat and therefore you will receive the greatest benefit, scent, and subtle aroma from fine natural ingredients with very little smoke. It lets the incense gently warm up and release its scent.
We recommend this heater for fine Agarwood, Sandalwood chips as well as resins and blends.
The Golden Lotus electric incense heater is thermostatically controlled to enable use with many different types of fragrances, incense resins and gums, powdered incense , bakhoor, wood chips, soft and hard dhoops, simmering granules, scented wax, herbs, flower petals, and essential oils.
Thermostatic Control
For most types of incense, we recommend that you turn the inline Thermostat to full (280 C). We like this heater because it will never scorch your precious woods. It lets the essence of resins and blends emerge slowly and completely.
It is meant to bring forth scent with less smoke
Price Includes:
Ceramic Heater with 4-inch diameter ceramic censer, lid, metal dish, and base, implements (spoon and pinchers), Foil cup samples, Incense samples, Satin lined Gift Box.
110V-120V, 5W-25W, 2 Prong US Plug, Guaranteed for 1 Year.
Imported by Mermade. We recommend buying a packet of Foil cups or Gold Foil Squares (available at Mermade) to use with this heater.
- A very complete video on the benefits and use of the Golden Lotus Heater from Carl Neal
- Go here for full instructions for use
For our overseas customers, Please Note:
This heater is 110V-120V, 5W-25W, with a 2 Prong US plug, you may need a voltage and/or plug adapter.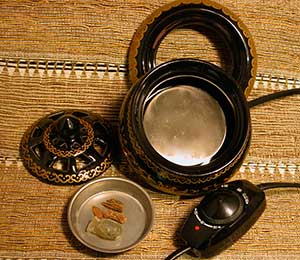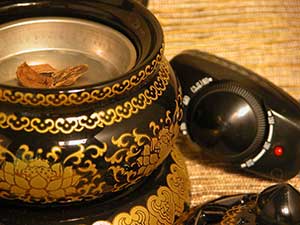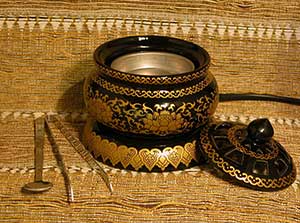 Don't forget to order our custom Foil Cups.
People who purchased this also purchased...