Greek Sage - 1 oz. Salvia Fruticosa (Triloba)
This sage came directly from the Growers in Crete. Greek Sage is a wonderful aromatic sage, similar in some ways to White sage but softer and sweeter. The scent has a unique potent green/herbal camphor scent. It has many healing properties* and is used in Greece to make the healthful tea known as Faskomilo.
As an incense, it is delightful, cleansing and fragrant. Use it for tea, cooking, incense or a nice energy clearing potpourri.
"It has a long tradition of use in Greece, where it is valued for its beauty, medicinal value, and culinary use, along with its sweet nectar and pollen. Salvia fruticosa was depicted in a Minoan fresco circa 1400 BCE at Knossos on the island of Crete. The ancient Phoenicians and Greeks likely introduced the plant for cultivation to the Iberian peninsula, with remnant populations of these introduced plants still found in some coastal areas. It also has a long tradition of use in various Muslim rituals—for newborn children, at weddings, in funerals, and burnt as incense. A cross between S. fruticosa and Salvia officinalis developed in the middle east is called "silver leaf sage" or Salvia" Newe Ya'ar'", and is used in cooking.
In its native habitat, it frequently develops woolly galls about 1 inch in diameter which are called 'apples'. These 'apples' are peeled and eaten when they are soft, and are described as being fragrant, juicy, and tasty.
*The East Mediterranean Sage (Salvia Fruiticosa/triloba) is a native plant of the Mediterranean, which has been used in traditional medicine by many Asian and Middle Eastern countries to treat several ailments. The leaves of the plant are boiled as an herbal tea for the relief of headaches, stomachaches, abdominal pain and many other disorders. The aqueous and oil extracts of sage have been shown to possess antioxidant, anti-inflammatory, anticancer and antimicrobial activities. It has recently been shown that the oil extract of S. triloba has potent chemopreventive abilities in the DMBA/TPA mouse model of skin carcinogenesis. This review describes the popular uses of the East Mediterranean Sage in traditional medicine with an emphasis on the anticancer properties of the essential oil extract of the plant.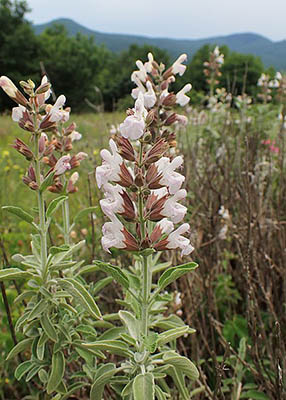 People who purchased this also purchased...