Black Frankincense Oil - Boswellia sacra, Oman
Ready for something truly special? This is the finest Black Frankincense oil available -
distilled with love and care by Trygve Harris of Enfleurage …
The aroma has a spicy orange pine sparkle, bright and happy and purely Dhofari, it has a unique warm floral beauty…quite unrelated to the lemony notes of Somali, and piney herbal notes of the White Oman Frankincense.
"At Enfleurage (in Oman) we do a slow hydro-distillation in copper, by hand.
We try to always have the clearest, cleanest, brightest, most sparkling and vibrant essential oils on the planet. That means sourcing oils from the happiest plants and best extractors, wherever they are in the world. Each plant is different, and their happiest and most harmonious places are correspondingly different as well. We are Omani frankincense enthusiasts. Boswellia sacra is all we do. I can't say sacra is the "best" because all the frankincenses are strong and great in their own ways. But sacra has long been recognized as the most beautiful, complex and refined frankincense, both gum and essential oil."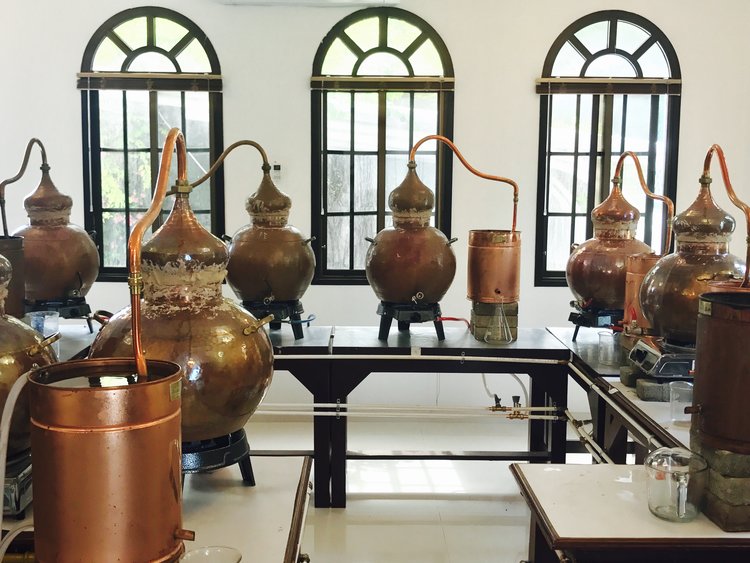 Some fascinating thoughts on the Black Dhofar Sacra trees and where they grow from Trygve Harris .
Trygve is one of my aromatic heroes…
"These trees are my personal favorites--they are stout and wise yet still approachable. I call my favorite grove the Old Lady trees because that's how they seem to me. The scent, as you know, has a spicy orange pine sparkle, bright and happy and purely Dhofari, quite unrelated to the lemony notes of Somali.
I think maybe the reason this is stickier and gooier might have to do with it coming from very high humidity areas. Most of the other frankincenses come from a little drier areas.
The road that bisects the home of these trees, the road to Yemen, and the mountains themselves are called "The mountains of the Moon. This is because these cliffs soar so high that to be on top of them was surely coming close to the moon! But I think it also has to do with the strange landscape--the limestone, the rocks, the bizarre vegetation......they could be from another planet. I certainly don't relish being there as darkness comes. The whole area is inhabited by djinn. Salalah is a center for magic, and Djinn and witches are pretty common. But you can see how the rocks could come alive in your mind even without the magic."
5 ml of oil comes in a Green Glass Euro Dropper Bottle, samples also available.
Benefits and Ways to use Frankincense oil:
- The slightly narcotic compounds in frankincense explain why the scent or taste of frankincense causes a shift in mood, calms your nerves, helps to relieve anxiety and aids in Meditation.
- Temples and places of worship have utilized the magic of frankincense for thousands of years. If you are in a smoke-free area or are smoke sensitive, just place a few drops of oil into distilled water, place in a mister bottle, shake, spray, and feel the purified sacred atmosphere it creates
- It has great antioxidant properties and can be blended with your favorite cream or lotion, great for the skin, healing scars and blemishes, not to mention the aromatherapy.
- Add a drop to a glass of water and drink for health
- Wonderful in Perfume blends or to wear alone, people will be attracted to its wonderful healing aroma
- Try blending CBD oil with Frankincense oil for a pain reliever and massage oil
- It is sedative and the comforting fragrance is believed to strengthen and invigorate the respiratory system.
-In a bath, Frankincense Oil can nourish skin, reduce cold symptoms, and stimulate the body's immune function through its anti-microbial properties.

- Frank oil is simply good for your Body, Mind, and Spirit!
People who purchased this also purchased...