Blue Nile Lotus - Nymphaea Caerulea - .5oz
Blue Lotus herb and flower petals completely organic and unsprayed cultivation from Central Thailand Aquatic Resources -
The "Narcotic Blue Lily of the Nile" with mild Sedative qualities for use in Tea, smoking blends or Incense - Used in ancient Egyptian and Meso-American Cultures
The Blue lotus or water lily was sacred to the Egyptians and is a symbol of the sun, of creation and re-birth. The flowers close at sunset sink under the water, at dawn they rise and open again to greet the day with azure color and sweet fragrance.
When prepared as a tea the flowers produce gold clear liquid that reminds one of melted amber. It creates a warm euphoric glow. The dried flowers can be smoked in blends or burned as incense. The aphrodesiac effect is enhanced by soaking the flowers in a glass of wine and this is thought to be the trational way they were used in ancient Egypt.
Blue Nile Lotus is thought to:
- Have a calming sedative effect
- Increase blood flow
- Act as an Aphrodisiac for both men and women
- General tonic and symbol of the origins of life and well being
This price if for half an ounce and includes 2 large unbleached tea bags for use in wine or a teapot for tea.
For more information see our article on"Blue Lotus of the Nile, the Narcotic Lily".
This is the flower we use in our "Dream Blends"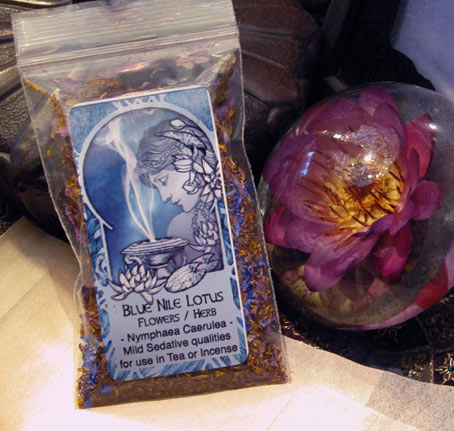 Blue Lotus herb and flower petals completely organic and unsprayed cultivation from Central Thailand Aquatic Resources -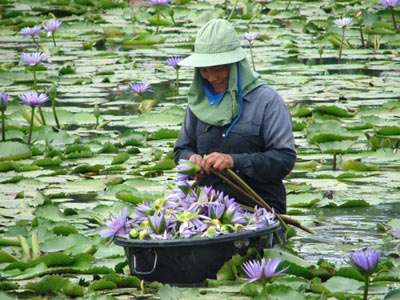 People who purchased this also purchased...